What's next?

Monday, October 15, 2007
It's been 5 months since touching down on US soil in June.

I've posted this to answer some of the most common question that I've been asked since reaching the end of my Ribbon Of Road journey
1) What's Next for you Gregg?
About 9 months into the trip, I realized that my journey was no longer a temporary departure from my life back in the "real world" but that the journey itself had actually become my new "real world".
The momentum from this "understanding" has led me to become a full-time photographer with a focus on bicycle and human powered adventuring. In the 5-months since I've been home, my new career has continued to transport me and my bicycle around the globe. From another cycling trip down the Pacific Coast, to France, Germany, Italy, Switzerland, and most recently to some of our great National Parks, it has really been an amazing path for me.
You can see my latest work at:
www.GreggBleakney.com
and follow my ongoing adventures through my blog at:
http://gbleakney.blogspot.com/
2) How can I get prints of some of the photos from your trip?
I've partnered with Imagekind here in Seattle to provide professionally framed photos from my trip. I'm adding new prints on a regular basis. Don't see something you like? Email me with your request at gregg@ribbonofroad.com. Of course, a percentage of the profits from these prints will be donated to the Ribbon Of Road 501c3 Foundation to help find a cure for diabetes.
To order prints go to:
http://GreggBleakney.imagekind.com/
3) Rumor has it that you are writing a book, when is it coming out?
In the past few weeks I've been incredibly fortunate and have met some people in the publishing industry who have offered to help me put my book together. It will be a book of short photo-essays and will include many of the stories presented in the blog from this web site and new stories in a clean, well-edited but fairly raw format. I expect the book to be finished in 2008. To follow my book progress check out my new blog - http://gbleakney.blogspot.com.
4) How are you adjusting to life back in the States?
Actually, my adjustment period has been smoother than expected. I have a great network of friends and family who have helped get me up to speed on life on US soil. The truth is that I really haven't stopped traveling since finishing Ribbon Of Road. Last week, I rented an apartment in Seattle and have a home for the first time since June of 2005. However, with my new photography career, I think of it more as a high-priced storage unit with a bed rather than an apartment. There isn't a waking hour of my day when I don't stop to daydream about my travels during the past two years.
Ok - That's all for now. Thank everyone again for supporting and following this adventure!
P.S. - I've had a server crash and lost several email addresses from friends I met along the way. If you have made it to this point in the post and have not heard from me for a while then please email me with your contact info. so that I can stay in touch!
Gregg
Ribbon Of Road – The Final Chapter

Wednesday, September 26, 2007
*This entry includes some photos that follow the story. The full set of photos for this stage will be online in the gallery section of this Web site a few days following this post*
The Final Chapter covers the last stage of my travels through the bottom tip of South America, from El Chalten to Ushuaia, Argentina. Starting in El Chalten, my route snaked its way back and forth across the border of Chile and Argentina, through the vast Patagonian steppe and a series of stunning national parks to the port town of Punta Arenas, Chile. After reaching the bottom of continental South America at Punta Arenas, I crossed by boat to the Fire Island, Tierra del Fuego and continued pedaling for 6 days to the end of the road, in Ushuaia, Argentina, the southernmost city in the world.
Los Glaciares National Park
, which borders the village of
El Chalten
, was a magical place for me. It's signature backdrop mountain range, the
Fitzroy Massif
, (which provided the inspiration for the
Patagonia Clothing Company
logo) held my attention for nearly a week. During the peak of the full moon cycle, I hiked and camped my way through the Park's lakes, ridges and valleys flanked by a deciduous forest in fall bloom. I took hundreds of photos of Fitz Roy--mid-day silhouettes with lens shaped lenticularis cloud formations overhead, backlit sunsets, and eerie full moon night-scapes. I also had the privilege of witnessing the "Sunrise of Fire" on three different occasions, where, for a brief moment in the early AM daybreak, the clouds rose just high enough to direct the sun's rays at a near perpendicular angle against the granite peaks causing the entire range to glow fiery red. My colorblind eyes have never witnessed such a spectacular contrast between land and sky.
I pedaled out of El Chalten alone on a dead straight gravel road that will likely be paved by the year's end. Fitz Roy had been taunting me in my rearview mirror. Fifteen miles out of town I set the Geoduck aside and hunkered down on a patch of sharp grass along the side of the road for one last gander. The sky exploded over the peaks at sunset. Flashes popped from behind the windows of an occasional shuttle bus rushing its clients to fancy resort hotels. I pedaled 18,000 miles to reach this viewpoint and wanted to enjoy every last drop of it. I decided to roll out my sleeping bag and bundled up to watch the clouds, lit by the moon, speed over the peaks throughout the chilly night. At 6 AM, I awoke to find a herd of
guanaco
grazing fifty meters away and two Canadian photographers quietly staking their claim to shoot the morning sunrise just feet away from my sleeping bag.
Don Thomas and I rejoined forces and eased our way past hundreds of miles of barren Patagonian grasslands. Under the watchful eye of a Burrowing Owl, we made camp in the site of Butch Cassidy and the Sundance Kid's last hideout before fleeing to Chile. Giant birds of prey lined old wooden fences bordering Estancia farms along the road. Flightless ostrich cousins called
Nandús
sprinted beside us along some of the more remote gravel sections and foxes crawled under my tent vestibule at night. A wealthy media mogel from Buenos Aires allowed us to camp on his land and even changed out one of Don Thomas' crusty 100 dollar travelers checks. In a classic display of bravado, he took Don out back and gave him a thorough demonstration of his new, sawed off, 12-guage shotgun after he caught him checking out his daughter.
National Geographic magazine calls Patagonia the windiest place on the planet. I wouldn't disagree. A local ranch hand told me that two years ago an Italian climber's body was found 5 kilometers away from the
Cerro Torre
, a massive spire in Los Glaciares National Park, after the wind snapped his ropes and blew him off the face. Full sized tour buses are frequently lifted off the ground and flipped upside down while parked.
The howl of the Patagonia wind was a constant companion for the last month of the trip and I could feel the land being pinched together as I approached the world's end. This "pinching" allows the wind to forcefully punch its way through the Southern Andes from the Pacific Ocean to the Atlantic. Cycling east, it was a free ride. I could literally kick my feet up, West Coast Chopper style, on my front panniers and make speeds of 25+ MPH without pedaling. Going west it was another story and a 3.5 MPH average was pretty good duty. I often went mad in these sections, tossing my bike in a ditch or under a bridge for 30 minutes while cursing my brains out in bad Mexican taco stand street Spanglish. Eventually, my cursing turned to laughter and I summoned the energy to continue on. As contrary as it may sound, I loved every minute of it.
After checking out the massive glacier formations in the
Southern Patagonia Ice Field
near
El Calafate
, Argentina, we crossed back over to Chile and into
Torres del Paine National Park
. The park has a reputation for fowl weather. Nighttime snowfall and below freezing temperatures were common and I had an urge to speed through this section before the full brunt of winter arrived. Don Thomas reminded me of a promise I made to myself after reading a magazine article several months before—I was not going to leave the this Park until a clear day arrived and I could properly take pictures of the Paine massif, a needle shaped spur of the Andes (Torres) from which the Park gets its name. We kept each other amused over cheap wine and colossal campfires at a nearly empty park campsite while waiting for the weather to improve.
After two windy, rainy days and nights in our tents we were completely stir crazy. I concocted a plan to stretch our legs and clear our heads via a hike to nearby 5 star adventure lodge that purportedly had a nice exhibit on the park's wildlife, including its surging Cougar population. This kicked off the single most expensive day in the history of the trip.
The wildlife exhibit held our attention for five minutes and we huddled around a wood burning stove in the lobby and talked about what to do next. It was pouring rain outside. Something smelled like my break pads while burning down the 16,000 foot hairpin passes in Peru. I delighted myself in laughter as, in the coldest, wettest, windiest section of the trip, I noticed that the front thigh sections of Don's Gortex rain pants had completely melted away from the heat of the stove. He didn't think this was as funny as I did and we split up to explore the rest of the compound individually.
I found the bar first, bellied up, and ordered a round for both of us figuring my travel-mate would show up by the time the second brew was topped off. He arrived right on schedule, took a seat and pointed down to thigh section of my Gortex rain pants. "Hey genius, you feeling a bit drafty down there?". I looked down and noticed for the first time that that damned wood burning stove burnt a gaping gash through the front of my rain pants as well. Current daily tab "$400 in Gortex".
A few high-end backpackers showed up in the bar. We were feeling generous and bought them a round, then another round for us, and then another as the rain wouldn't stop for long enough to consider a dash back to our campsite with our newly ventilated rain gear. Eventually the deluge slowed to a trickle and Don offered to pick up the tab on his card. We never bothered to check the price of beer in the eco-adventure lodge. "Add $115 to the daily tab". This might not seem like such a huge cost for a night out in Paris paid in Euros, but consider that an average beer in a city in Chile/Argentina costs MAYBE $1.00.
Oddly, Don Thomas decided to buy a camera 10 months into his 1-year trip, in
Bariloche
, Argentina. That was the last time he used his credit card. The purchase tripped the code-red o' meter and his credit card was deactivated and thus rejected by the adventure lodge who promptly handed him a phone to dial the 1-800 number to sort it out. Forty minutes later, he hadn't sorted it out and I hiked back to camp in the dark to get my card. When I returned, he was still on the phone. My card passed the test and we decided to beat it on out of that place before more damage ensued. On the way out of the lobby, the front desk manager ran us down. "Excuse me Mr. Don Thomas, we need to talk about your phone call". "Yes, you see, even though you dialed a 1-800 number…that was a satellite phone you called from". "Add $195 to the daily tab".
One week later, at an internet café in
Puerto Natales
, we figure out that the hotel doubled charged us on both cards and that Don's card was working after all. "Grand daily total to chugga' few beersks and stretch the dogs at the Eco-Adventure Lodge, "$725". Don, who put himself through college selling books door to door, called the lodge immediately after our discovery in the Internet café. "The last thing you do, is get me pissed off and on the phone with a softy Chilean adventure lodge manager" he exclaimed. The charges disappeared from our credit card bills almost as quickly as they were racked up.
Eventually, our calculated luck paid off, the sky opened up and we were treated to perfect vistas, sunsets, and sunrises in Torres del Paine, one of the world's great national parks. The next few weeks we continued south across grassy pampas and sprawling
Estancia
farms dotted with twisted Southern Beech trees, bent permanently to the east from a lifetime of pummeling by the wind. We reached
Punta Arenas
, the Southern-most port city in the Americas and enjoyed several days of rest, discoteca dancing, and general mis-adventuring amongst our peers. We took the ferry to
Tierra del Fuego
(The Fire Land), an island a the tip end of South America that gets its name from the
Yamana Indians
who often burnt huge fires to stay warm as they wore little or no clothing. On the island we were treated to Patagonian lamb and seaweed soup, homemade bred, and shelter provided by the local Estancia owners after we were assaulted by a howling snowstorm. From here on out, we mostly cycled or pushed our bikes through the snow.
On our last night on the road, we were offered accommodation by Emilio, the owner of Panaderia la Union, the dopest bakery on the planet, open 365 days a year, 24 hours a day in the micro-village of Tolhuin. Emilo's bakery comes equipped with an array of scantily clad celeb-photos, internet, mouth watering baked goods, chocolate sweets, coffee bar, massage center, and a complete indoor zoo with Tucans and beavers. He let us sleep on massage tables in the third floor observation platform and told his employees that we had an unlimited use, all you can eat, free punch card with no questions asked. I pinched myself to make sure that I didn't get run over by a chicken truck and sent to heaven earlier in the day. I woke up at 2AM to raid the pastry counter downstairs for the umpteenth time and found a gaggle of South American supermodels in designer pajamas, huddled around the chocolate selection. In a flash they were back on their plush tour bus before I could figure out if I was still dreaming or not.
The next morning, we awoke to the sweet goodness of smells from the bakery below wafting up to our sleeping platform. Don Thomas, who was up before me for the second time in our 10 months of traveling together, exclaimed "Gregorio, this is the only occasion in my entire trip that I have woke up in the general vicinity of YOU when the room, tent, ditch, cave, or whatever actually smelled good". With that said and a few more brotherly insults exchanged, we gorged ourselves on Emilio's gracious, sugary sanctuary meal ticket before climbing on our bikes for the last day of the journey.
The last day of my trip was not surreal nor did it include any sort of life epiphany but was rather an incredibly difficult and treacherous finale. We climbed the final high pass before
Ushuaia
in the morning sun, crested its summit, and descended in a snow flurry. As we lost elevation, the snow covering the road grew to over one foot deep and it was necessary to push the bikes over its surface. We were just a stones throw away from Antarctica, in late fall and it was freezing cold. I had to make regular pit stops to rotate my arms softball pitch style for several minutes until enough blood flowed to my hands to ease their numbness and allow me to continue on the bike. The drops of fluid from my runny nose were freezing into my facial hair. Just a few miles outside of Ushuaia the road cleared of snow and we cruised the final downhill with dreams of a grand celebratory beersks drinking session hot on our minds. With less than 4 miles to go, Don Thomas looked over at me in the pitch black darkness and said "well buddy, I think we've done it, we're really going to make it to Ushuaia". I agreed and we hooted and hollered at the top of our lungs. Next, the Geoduck hit a patch of black ice and I went down hard, slamming my right hip and head on the tarmac at full canter downhill speed. Fortunately, I was so cold that I couldn't feel anything and we pedaled proudly to the first decent looking drinking establishment that we could find in Ushuaia. After inhaling a plate of spaghetti and two beers the room started to waver back and forth. "Don", I exclaimed, "I think that this whole experience has finally just hit me", "the room is spinning and I can barely keep my thoughts in line!". "Dude, maybe it's because you just slammed your head on that cement road at 20 MPH--you probably have a concussion!". El Don was right, I ended my party prematurely and wandered back to my hotel room alone where I celebrated the conclusion of the completion of a life's dream by sleeping non-stop for 2 days.
Epilogue
I rested and wondered around Ushuaia for nearly 1 week before organizing my return to Seattle, WA. The last and most important thing on my to do list before hopping a flight back home was to pick out some postcards from Ushuaia. So many people had assisted me along this journey--thanking them with a hand-written note was my way of distributing gratefulness and creating the final closure for the journey. My list of addresses included zip codes from over 15 different countries directed to multi-million dollar estates, dilapidated wooden shacks, and slingers of the finest beer, coffee and sweets along the Pan American Highway.
I was the last passenger to cross the frozen tarmac between the terminal and my Boeing 737 heading north to Buenos Aires. A few steps before reaching the boarding ramp an awkward chill tingled its way up my spine. With the exception of my bridge between Central and South America, this would be the first time in my 18,500-mile route that I would travel over the earth's surface without smelling its season, squinting at its horizon, or feeling the burn of its hard landscapes in my hamstrings. How could I have forgot the most important thank you of my entire journey? I turned to face the new quarter moon that illuminated the pampas along the airport runway, tipped off my Chilean gaucho hat, and bowed deeply to our planet. I thanked it for demonstrating its magic time and time again, for granting me and Geoduck safe passage across its latitudes, and for teaching me that, when you truly surrender yourself to your dreams, nothing is impossible. What an amazing world we live in, I wish it could stay this way forever.
This has truly been a surreal journey, thank you for sharing it with me!
Gregg
gregg@ribbonofroad.com
Downtown Baby!

Tuesday, May 08, 2007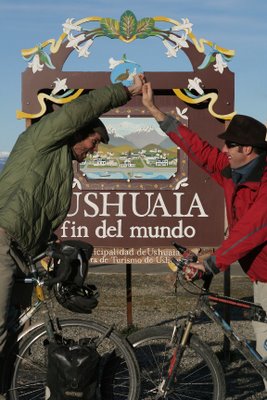 On Sunday, May 6th at 8 pm, I arrived at southernmost city in the World, Ushuaia, Argentina, completing my nearly two year quest to cycle the length of the Americas from North to South to raise money to help fight Diabetes. The last few days were some of the most challenging of the trip as the Antarctic winter finally ran me down, forcing me to cycle/push my way through the snow, ice, and sub-freezing temperatures (basically the most dangerous conditions of the entire trip) for the last few hundred kilometers of my journey.
I rolled into town with my trusted companion through South America, Don Thomas. El Don and I celebrated our arrival with my two guardian angels from Central America, Ruth and Horst, who arrived in Ushuaia just 1 week before.
Between celebratory beersksks and sleep I´ve been working on my final photo gallery and trip report which covers my traverse of southern Patagonia and arrival from Glaciers Nacional Park to Ushuaia. I should have everything ready go in a few days. For me, the final stage of the journey was also my best stage so if you have been following this Web site, make sure not to miss the last trip report--especially the photo gallery.
Cheers!!!!
Gregg

What´s Left? Some stats and factoids.

Sunday, April 29, 2007
What´s left of my adventure?
I´m currently in Punta Arenas, the furthest southern city in Chile waiting to catch a ferry to La Isla Grande de Tiera Del Fuego. On the Island, I will cross the border back into Argentina and finish my trip in the city of Ushuaia. At just 80 miles from Antarctica, it´s commonly thought of as the furthest southern city in the world. With the wind in my favor, I´m probably 5 cycling days away from Ushuaia. Down here, it´s late fall/early winter--today it´s 30 degrees and snowing. National Geographic Magazine called this area the windiest place on the planet. The other day, the wind lifted a full sized, parked tour bus off the ground and flipped it upside down.
What´s left of me psychologically?
- I´ve been on the road for 624 days. During this journey, I´ve slept in well over 500 different beds, camps, ditches etc. A few days ago, the police told me not to pitch my tent in an open field because, at night, the wind could lift my tent off the ground and blow me away with it. They offered an abandoned barn as an alternative. I slept on a dirt floor mixed with charcoal fire chips and broken glass. The wind shook the barn like twin-bladed Chinook helicopter hovering over a match box. The barn had an outhouse--it felt like a 5 star hotel.
- Last week, Don Thomas and I trekked through Torres De Paine National Park. It was miserably cold, windy, with slushy snowfall. Mice invaded our tent. Throughout the night we took turns flicking the mice off of our sleeping bags and foreheads. We stayed up laughing in the darkness at the repetitive sound trio; swoosh went a hand against a sleeping bag, thump went the mouse against the tent rain fly, squeak the creature yelped as it fled the inner tarp. This seemed like a pretty normal sleeping situation, in fact, it was quite entertaining.
- About 100 days into the trip I started to forget what day of the week it was. Around day 400, I started to forget what month it was. Last week, I forgot what year it was.
Oddly, I consider myself to be in the best mental condition of my life; this should probably scare me more than it does.
What´s left of me physically?
On trip day 1, I tipped the the scales at 215 lbs. Last week, I weighed in at 172 lbs. My brother nick-named me ¨fat ass¨ at his wedding two weeks before I started the trip. When getting my tuxedo measurements before his wedding, my waist size was 37. Before my friend Dougolay´s wedding (when I was in Peru), my tuxedo waist size measurement was 31. Staying ¨well fed¨ has been a challenge for me on this trip, I just can´t seem to consume enough calories.
What´s left of my gear?
Recently, while doing my laundry, I realized that EVERY article of clothing I carry has a hole in it. This includes my shoes, hat, raingear, and bicycle tights (in a very unsightly location).
Nearly every piece of gear that started the trip with me in Prudhoe Bay Alaska 624 days ago has been lost, stolen, broken or replaced.
Examples of lost/replaced stuff:
Tent
- Original tent replaced by Outdoor Research with a new sponsor tent in Seattle, which was stolen in Mexico, which was replaced in Guatemala, which was exchanged with a new, ultra-light model in Argentina. Thank you Outdoor Research!
Rear Rim
- Cracked the first time in British Columbia, replaced in Seattle, cracked again in Mexico, replaced in Guatemala. Cracked again in the Bolivian desert, replaced in Argentina. Current status of rim 4 - cracked on the Carretera Austral in Chile, glued and duct-taped together. Keepin´ my fingers crossed! Thank you Co-Motion Cycles for sending replacements!
Bike Bags
- Stolen or damaged in Mexico. Front bags replaced in Guatemala (thank you Mom and Dad), full set replaced again in Panama by sponsor. Thank you Ortlieb!
Utility Knives
- During this trip I´ve discovered that I really like utility knives. Unfortunately, I struggle to keep them around for more than a few weeks. Leatherman # 1 - purchased in Seattle, lost in the Andes. Swiss Army # 2 - bought in Cusco, Peru, lost 1st time in Bolivia, second time somewhere in Argentina. Swiss Army # 3 - purchased in southern Chile - lost 7 days later in southern Argentina. Current, Swiss Army Knife # 4 - found in Torres National Park, Chile, still got it but highly doubt that it will make it to the end, in fact I don´t think that I know where it is right now.
Notable items that have made the distance (items usually get nicknames if they stand the test of time):
The Geoduck
- My bicycle, takes a lickin´ and keeps on tickin´. I´ve beat the crap out of my bike and have no clue how it is still in one piece.
Mean Green
- My coffee drinking cup with a metal ring that scorches my hands and burns my lip every morning. I kinda´ wish that I lost this one but have an emotional attachment to it now.
Camera Tripod
- Has saved my life. This item will never be lost and was granted nickname immunity in Guatemala.
Tighty Blackies
- My black wool underwear that look, well, just like tighty whities but less flattering. I´ve worn the same two pair and ONLY two pair of underwear for the past two years. They are the ONLY original clothing items that I still own. Like a boomerang, even if I lose them, somehow they find their way back to me, which makes perfect sense. Thank you IBEX!
Gregorio or Craigorio
- Me. ¨It´s not the years, it´s the mileage¨ My common reply to people when they first meet me and question my appearance. My cranium has held up though I do get pretty sick of myself at times. Mysterious bumps, scars, bruises--numerous stomach ailments, bugs, infections, and aches and pains. My body has somehow managed to stay injury free and in one piece. Thank you cranium, thank you body!!!
Hasta El Fin!!!
Gregg
Stage 3, Part 7 - Puerto Montt, Chile to El Chalten, Argentina

Monday, April 23, 2007
In Stage 3, Part 7, Gregg cycled the length of Chile´s Carretera Austral or Southern Highway. For 800 miles, he bounced along it´s rough dirt surface, passing through pristine national parks, remote villages, fishing ports, and castle-shaped mountain ranges. He navigated across the region´s fjords, islands and lakes through a series of six public and private boats. After reaching the end of the road in Villa O´Higgin´s, Chile, he pushed his bike into Argentina over a mountain pass on a horse trail. The stage ended in El Chalten, Argentina, a frothy micro-brew slurping haven and base camp for trekking in Glaciers National Park, the icon of Patagonia.

From Puerto Montt there are two possible southbound routes for a cyclist to consider. The first crosses the island of Chiloe, a historic community known for it´s multi-colored stilt beach houses. The second, all unpaved, hugs the Seno de Reloncavi, Chile´s northernmost glacial inlet, to the start of the Carretara Austral in Pumalin National Park. Pumalin National Park is a controversial nature sanctuary and the brainchild of US billionaire Douglas Tompkins. In 1991, Tompkins bought a ranch in the area and has, since then, been quietly gobbling up millions of acres of land for conservation throughout Patagonia and donating it to the country for protection. Pumalin is unique because it is open to the public. I decided to see what this eccentric fat cat was up to first hand--I also heard that they sling tasty ice cream brownies at the Pumalin park cafe.

Leaving Puerto Montt, the cycling along the glacial inlet to the first ferry port at La Arena was superb. With locals firing up smoked mussel samples along the beach and crystal clear views of the coastline, I felt like I was back home on Bainbridge Island, where I grew up in the middle of Seattle´s Puget Sound. The great ferry boat debacle began when I arrived at the dock in La Arena. ¨Pumalin National Park...you´re 10 months too early for that boat¨ announced the resident rubberneck. My heart sank, with the ferry out of service, the only other option was to backtrack some 250 miles--to Puerto Montt, cross Chiloe Island and take the next ferry from there, which left 7 days later. I dug my two-year old guidebook out of the bottom of my rear pannier; ¨Ferries crossing to Pumalin National Park only run in January and February, it is imperative to check if they are running before arrival¨. Don Thomas got some mileage of my blunder. ¨Dude, tell me again why you tote a 5 pound South American guidebook with you when you never use it?¨.

I decided to do some more digging. ¨I can get you as far south as Port Puelche where you can cycle two days across the peninsula to Puerto Hornopiren...but from there it is IMPOSSIBLE to reach Pumalin Park¨ exclaimed the public ferry captain; ¨Pumalin...you´re loco, come back next year!¨ said the empenada bakery cook; ¨No, no, no...Pumalin, no. Tiene whiskey?¨ replied the wharf drunk.

So in a patented move that has proven to drive my family crazy over the years, I decided to go with my gut and do exactly the opposite of what everyone was telling me to do. I waved down the captain, ¨Take me to Puelch. I will ride to Hornopiren and from there I´m makin` my own damn boat to Pumalin!¨. Ruth and Horst, my Swiss/German friends decided to join me in blind faith. Don Thomas was already on the ferry with his new video camera rolling, ¨Dude, what are you waiting for? That Hornypenis place sounds cool!¨.

Upon our arrival to Hornopiren, Ruth and I cycled down to work the wharf scene for potential rides further south. After being sent to 5 different houses and businesses throughout the village, I stumbled into Raul, who was wrenching away on a beached fishing boat. It was Raul´s day off, he had access to another fishing boat and could motor us through Canau Fjord to the small port of Leptepu, on the fringe of Pumalin National Park! Heavy negotiations ensued and we cut a deal for the 5-hour passage and suddenly the impossible had become possible. There was, however, a hitch in the plan. Leptepu was on another peninsula which we could cross by bicycle to the port of Fiordo Largo. From Fiordo Largo, we would have to find another boat to get us across Fiordo Renihue to the main port of entry into Pumalin Park or risk being stuck in a very remote and roadless place.

The boat ride was fantastic, dolphins leapt across the stern and Sea Lions acrobatically flung themselves 6 feet out of the water. When sheets of rain and cold wind killed our field of view, the party moved into Raul´s cozy captain´s cabin where we shared a few rounds of beersks with the salty sea dog. We unloaded our bikes at Leptepu and cycled across the peninsula on a dirt road to Port Fiordo Largo. En route, I had a close encounter with a very large, shiny green John Deer tractor. I stopped the driver and asked curiously what he was doing out here. ¨I work for the big boss¨ he said. ¨Tompkins, the casa of Tompkins is just down this road¨. I had no idea that Tompkins actually lived in Pumalin. Through our somewhat unusual method of entry into the park, we had stumbled into his private playground. We rounded the corner and saw his airport, fleet of planes, tractors, organic gardens, and huge spread of incredible guest houses and gathering facilities. Back home, the average rich dude buys a yacht, mansion, or blows his cash on a fancy airplane. I can understand why the Chilean Government gets a bit uncomfortable when a guy sets up shop in their backyard with enough cash to buy swath of land the size of a small US state that lines the southern border region of their country with Argentina.

When we arrived to Port Fjordo Largo I was a bit surprised to discover that there were no boats there. In fact, there weren´t even docks, just a few salmon rearing pens 100 meters offshore. We waited around for a few hours and talked through our options when a small boat stamped with the logo of the local fish hatchery pulled up to the boat ramp to drop off some workers. I sprinted down the ramp to chat them up. ¨No, this assistance is impossible because it is illegal to give non-workers rides in our boats for insurance reasons. We are sorry, you will have to wait for one of Tompkins´ boats to show up. We think that one will arrive in two days¨. Some Chilean cash flashin´ changed their minds. A few minutes later we piled our bikes and bodies onto the tiny launcha and powered our way across Fiordo Renihue to Caleta Gonzalo, the northern entrance to Pumalin and home of the famed chocolate ice cream brownies which were quite sublime indeed!

While Ruth and Horst moved ahead, Don Thomas and I spent several days exploring the lush temperate rainforest, glacial tracts, hot springs, and camping in the Park´s 5 star facilities. It didn´t take long for me to be converted from a sceptic to a believer. Though initially the place had undertones of a wacky Jurassic Park project, it was first class all the way--the best managed and most spectacular natural environment of the trip.

After re-energizing our legs in Amarillo hot springs, Don Thomas and I ripped the road without rest for the next week. As we traveled further south, the services and villages became few and far between. The only other tourists we encountered were a handful Israeli hitchikers and high-end North American package tour fisherman racing along the road in plush expedition grade SUVS to be the first to the hot fishing hole. We slept without tents under the stars and made huge campfires while herds of horses looked on. My state of travel-bliss was broken by the loud snap, crackle and pop of Don Thomas´ rear wheel. The hub had exploded making his bike useless and he hitched a ride back to the major town of Coyhaique to look for replacement parts with a tour leader for Patagonia Clothing Company. The driver had just dropped several of their employees off for a week of volunteer work at a new national park site. Not surprisingly, Tompkins´ put up the bulk of the cash to buy the land in a joint venture with Patagonia´s founder, Yvonne Chouinard. Don Thomas picked a great time to break his bike because the following day, I racked up a new trip record for elevation gain and four letter word cursing in a single day (9,000 feet in 58 miles) as the terribly rough road wound it´s way up and down along the translucent blue Rio Baker,

Ruth, Horst, Don Thomas and I came together again at the end of the road in Villa O´Higgins. We waited a few days for the next ferry to arrive which would bring us across Lago O´Higgins to a little used Chilean border post. From there we would ¨hike a bike¨ along an old gaucho horse trail some 20 miles to the border of Argentina. A big night was had as the four of us turned our pension into a makeshift steak house and BBQ´d up several kilos of carne. While discussing the finer points of sleeping mats with some fisherman guests from Colorado, I went to fetch my oh-so-plush, sponsor-provided, duck feather air mattress for show and tell. When sleeping on poor beds, I usually inflate my mattress and plop it on top of the hostel bed. As I yanked the mat off my bed, I heard the thump of the scrappy house cat flip off the mat and onto my sleeping bag. I then heard the voices of several other, much smaller cats. Hmmmm. Was it the wine or were those kittens? Evidently, the house cat liked my mattress too because it decided to give birth on it. Don Thomas, now one bottle of wine deep, ridiculed me over the fact that it was the first sign of fornication he´d witnessed in my bed since joining me in Peru, nearly 10 months ago. I did my best to ignore him and cleaned the birthing slime off my prized mattress in the bathroom shower.

We arrived a the Argentine border two days later, completely exhausted from literally carrying our bikes over a mountain pass. At the border post, we were slated to take the last ferry of the stage across Lago Dessierto to a road that would eventually lead us to civilization again in Argentina. The officials told us that the last public ferry of the year left the day before. Again, as luck would have it, we managed to talk our way onto a private boat that was transporting the region´s top military official back home from a fishing trip.

Don Thomas, Ruth, Horst and I rolled into El Chalten and beelined to the coffee shop, then pizzeria, and then micro-brewery where we celebrated our sucessful and lucky travels along the Carretera Austral. I hammered a few extra beersks and pizza that night as my arrival into El Chalten marked the completion of the second to last stage of my journey and kicked off the final chapter of Ribbon of Road. For the first time in nearly two years, I could smell the finish line ahead!

Stage 3, Part 7 Stats
Miles: 822.6 miles
Elevation Gain: 57,764 ft.

Overall Expedition Stats
Miles: 16,878.3 miles
Flat Tires: Gregg 16

Sponsored by: Co-Motion Cycles, Outdoor Research, Ortlieb, Rudy Project, ThinkHost, eRoi, Schwalbe North America, ZUM, Bay Club, Canright Interactive, R Bar, IBEX, Lombardi Sports, Jaunt
June 2005 July 2005 August 2005 September 2005 October 2005 November 2005 December 2005 January 2006 February 2006 March 2006 April 2006 May 2006 June 2006 July 2006 August 2006 September 2006 October 2006 November 2006 December 2006 January 2007 February 2007 March 2007 April 2007 May 2007 September 2007 October 2007